Crete has much to offer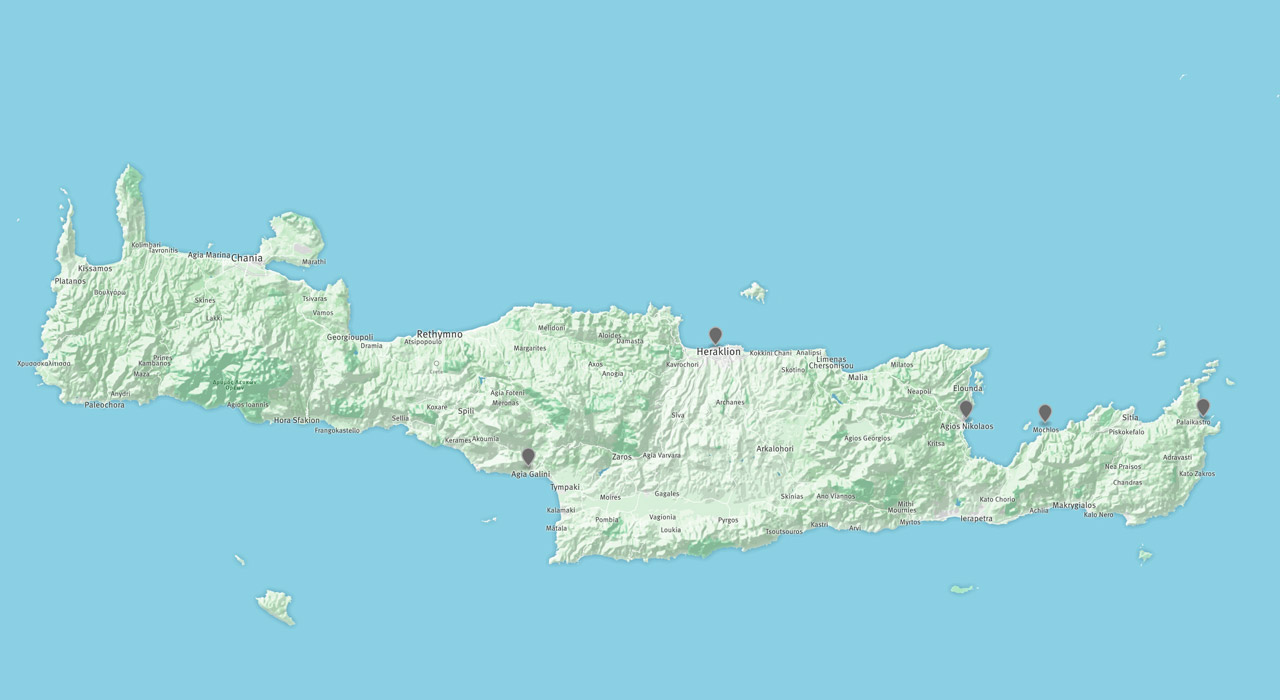 Zeus must have been a networker
Crete is becoming increasingly popular with cyclists.
Whether road bike, mountain bike, e-bike or touring bike. More and more often the cyclist show up on the roads trails and gravel paths.
Crete Cycling offers you very good bikes, well-trained guides and professional stations in 5 locations on Crete. Here you will find an overview of the possibilities that Crete offers and through our contact you can prepare your next stay in Crete wonderfully.
The highlight in the program
The cycling year starts in mid-March with cycling weeks in the south of Crete.
from March 14th until April 25th 2020 there are cycling weeks with guided tours and a lot of Cretan flair. In small groups you are tuned to the cycling season.
Afterwards Crete is crossed on the bike. The TOUR OF CRETE from the 10th to the 15th of May 2020 will lead this year from central Crete to the east of Crete. Half cycle race half stage tour it goes in 6 stages over a total of 470 kilometers and 8,878 meters in altitude.
Also in March the Martin Bike Station starts with a new location in Elounda the Mountainbike holidays weeks. Meanwhile, in the 20th year Barbara, Martin and Joshi offer a fully developed mountain bike program with its own hotel and top equipped bike station. High-quality SCOTT bikes (mountain bikes, e-bikes and racing bikes) are offered. If you stay near Elounda you can also rent bikes here.
In Palekastro, Jan de Vrient has meanwhile switched his station to FOCUS bikes. High quality e-bikes, 29 inch mountain bikes and some road bikes can be rented there. Legendary and popular are the mountain bike stage tours through the wild east of Crete.
A new center with high-quality equipped studios will be available from May 2020 in Iearapetra. A small pearl in the south-east of Crete with a small fine FOCUS bike station. Nikos Korniotakis has lived and worked in Europe for many years, now he has fulfilled his dream and returns to his hometown. Nikos speaks 5 languages so there will be no communication problems. Exclusive accommodation for athletic guests will get to know tours that only the locals know!
Bicycle Holidays in Agia Galini can be booked throughout the season. Our bike hotels Palazzo Greco and Minos are complemented by the family-friendly accommodation Irini Mare and offer great road bike holidays with the family.
The Crete Cycling Station in Heraklion is growing year by year. We have purchased additional e-bikes, additional FOCUS Izalco Race Carbon with Ultegra equipment and lots of accessories to fulfill all your rental needs. With our Leao online booking engine you can check the availability and also reserve the right wheel.
so it is up to you to discover Crete!